BLK Community is a space for you to vibe, connect and chat with your BLK community about your favorite topics!
This exciting new feature brings your BLK community together in different chat rooms to discuss common interests and to share content.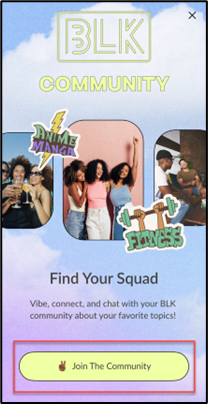 Joining a Community is free and optional. Choose to opt out by selecting the X in the top right corner. To participate tap Join the Community and read our community rules and tap Agree before entering. There will now be a new tab for you to access Communities.
There are several Community Spaces to choose from! And there is not a limit to the number of Communities you can follow.
Before tapping on a Community, you can view the Community name, the number of followers, and active members currently in the space. Once a Community is selected a description is provided explaining the purpose for the space.
From there the you can chose to Follow or Unfollow the space, view the participants, or tap the back arrow to look at other Community Spaces.
After joining a Community Space you can start to post and respond to other members posts with text, photos from your phone, or links to other content sources. Long press on a message to send reactions, directly reply to it.
Please note: that our Communities are moderated by our team. Inappropriate behavior can be reported by tapping the profile name, tap Block and Report, select the reason for the report, confirm the information by providing a brief summary of the issue, and select Submit.